Primary contents from here.
Company Profile
| | |
| --- | --- |
| Company Name | Okasan Asset Management Co., Ltd. |
| Address | 2-2-1 Kyobashi, Chuo-ku, Tokyo 104-0031 JAPAN |
| Phone Number | +81-3-3516-1188(main) |
| Date of Establishment | October 6, 1964 |
| President | SHIOKAWA Katsushi |
| Business Details | Investment Trust Business,Asset Management Business |
| Capital | 1,000,000,000 Yen |
| URL | https://www.okasan-am.jp/ |
Message from Okasan Asset Management Co., Ltd.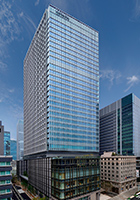 Japan Investment Trust Management Co., Ltd. (established in 1964) and Okasan Capital Management Co., Ltd. (established in 1984) merged on April 1, 2008 and the two companies have commenced business as Okasan Asset Management Co., Ltd.
The new company combines the management skills of Okasan Capital Management, with its distinctive operations as an investment advisory company, with the expertise of Japan Investment Trust Management, which in an industry beset with mergers and acquisitions has maintained an independent approach based on the slogan "For the Fund." A structure has been prepared to significantly expand the scope of products and management that will be provided for customers. Under this structure, Okasan Asset Management will quickly and appropriately respond to increasingly sophisticated and global asset management needs, and will seek to provide a more satisfying performance and ever better products and services.
With the Japanese economy now mature and the period of low interest rates set to continue, demand for diversified international investments is rising, and financial assets are shifting from savings to investments. In this environment, products centered on investment trusts play an important role as tools to provide better investment opportunities for customers, and the market is likely to expand rapidly. We are committed to helping customers with their asset management requirements under our management philosophy, which is expressed in the slogan "For the Fund." We look forward to your continued support.