Primary contents from here.
About the logo used by Okasan Securities Group Inc. and Okasan Securities Co.,Ltd.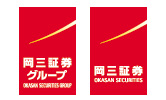 Our logo features a stylized image of a rising sun in the form of an upward curving line that symbolizes our commitment to managing client assets and improving the quality of services. Sharp lines convey the rising image and the power behind the Okasan brand. Our logo represents the dynamic spirit of the Okasan Securities Group, which flies ever higher as a result of our transformation into a holding company.
About the logo used by Okasan Online Securities Co., Ltd.

The logo used by Okasan Online Securities Co., Ltd., conveys the fact that the company is a securities company specializing in online operations as a member of Okasan Securities Group. Symbolizing clients, shareholders, and employees, the logo comprises three lines that express the mission of lifting stakeholders to a higher level. This design represents a professional securities firm imbued with the spirit of innovation and evolution in the use of IT to develop and offer new types of online securities.
About the logo used by Okasan Asset Management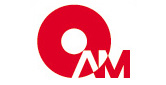 The logo of Okasan Asset Management features an "A" and an "M," which stand for the capital letters of Asset Management presented on the circular design of the eyes of a snake. It is also used as the company emblem of the Okasan Securities Group. The logo represents the position of Okasan Asset Management as the flagship company of the Group's asset management business, and the business in which Okasan Asset Management continues to grow through its specialized asset management, which has primarily been developed through its traditions and history.
Okasan Securities Group Information