Primary contents from here.
About the logo used by Okasan Securities Group Inc. and Okasan Securities Co.,Ltd.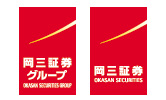 Our logo features a stylized image of a rising sun in the form of an upward curving line that symbolizes our commitment to managing client assets and improving the quality of services. Sharp lines convey the rising image and the power behind the Okasan brand. Our logo represents the dynamic spirit of the Okasan Securities Group, which flies ever higher as a result of our transformation into a holding company.
Okasan Securities Group Information