Primary contents from here.
Company Profile
| | |
| --- | --- |
| Company Name | Okasan Niigata Securities Co., Ltd. |
| Address | 1-5-5 Ote-dori, Nagaoka-shi, Niigata 940-0062 JAPAN |
| Phone Number | +81-258-35-0290(main) |
| Date of Establishment | March 30, 1944(Founded October 10, 1899) |
| President | EGOSHI Makoto |
| Business Details | Securities Business |
| Capital | 852,572,720 Yen |
| URL | https://www.okasan-niigata.co.jp/ |
Message from the Okasan Niigata Securities Co., Ltd.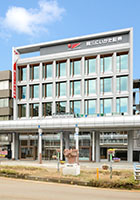 Since 1899, we have worked together with our clients in Niigata Prefecture through the peaks and valleys of the Japanese economy from the Meiji period to the present. With a proud tradition of over a century, we operate from a foundation of sound management with a focus on our community.
Our keyword is Investment Performance. With massive flows of information, we provide timely, understandable analyses with appropriate recommendations for each client, with whom we work together for the best approach. Management means sharing professional knowledge and experience one-to-one with clients. We sincerely feel that the opportunity to share a collective sense of happiness with our clients constitutes our reward.
Our operations are spread across thirteen offices in Niigata. In order to realize this form of management all employees join forces under the following watchwords: Pleasant Living, New Wisdom, Sincerity, and Community Contributions. Accordingly, we consistently provide high-quality information, product proposals, and services geared to achieve customer satisfaction. Our management framework is capable of taking on the challenges of the future in strong partnership with our clients.