Primary contents from here.
The Okasan Securities Group will mark the centennial of its founding in April 2023. With this milestone in mind, we will accelerate our business model reforms to establish systems for continuing growth while earning the trust of customers well beyond the centennial.
The following goals—providing customer-first services, creating shared value, and working on digitalization—will serve as our basic policies for steadily accommodating diversification in customer needs and growth in business opportunities. Centering on the retail business, we will carry out reforms in various areas, including the corporate business and alliances, and work to increase corporate value.
Period covered
The three-year period from April 2020 to March 2023
Okasan Securities Group Medium-Term Management Plan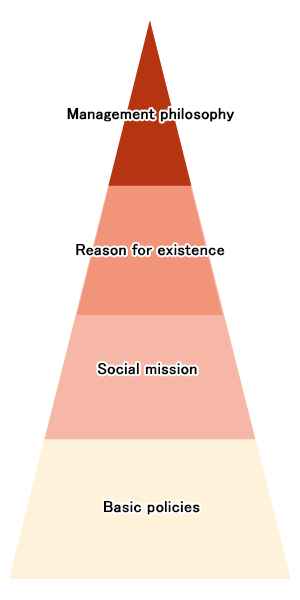 1. Management philosophy

Customer-First

2. Reason for existence

As securities professionals, we provide optimal asset management services and contribute to customer asset building.

3. Social mission

Customers
We seek to be a group of investment advising professionals focusing on advancing the best interests of our customers.
Employees
We seek to be a company in which employees can take even greater pride to make the work of our employees as rewarding as possible.
Shareholders
We strive to increase corporate value to meet the expectations of our shareholders.
Local communities
We strive to provide added value to contribute to the growth of local communities.
4. Basic policies

Providing customer-first services
We will thoroughly implement the Okasan Securities Group's customer-first philosophy by providing services from the customer's perspective.
Creating shared value
We will create new revenue sources and increase cost efficiency by consolidating Group resources into a single platform.
Working on digitalization
We will work to develop innovative services and to provide new value by making use of technologies.

5. Quantitative targets

ROE: 10%
Number of accounts: 1 million
Assets under custody: 10 trillion yen (as of March 31, 2023)
As we move toward the centennial of our founding in April 2023, we will build the foundations for achieving sustainable growth in our centennial year and beyond.
Okasan Securities Group Information