Primary contents from here.
Company Profile
Company Name
Okasan Kogyo Co., Ltd.
Address
3rd Floor Koami-cho Yasuda Building 9-9, Koami-cho, Nihonbashi, Chuo-ku, Tokyo 103-0016 JAPAN
Phone Number

+81-3-3665-3500 (main)

Date of Establishment
April 6, 1954
President
MORI Toshikatsu
Business Details
Real Estate Business, Insurance Agency Business, Other
Capital
90,000,000 Yen
Registration and license

Registered real estate broker

Tokyo metropolitan governor(13)No.29802

Senior registered architect office

Tokyo metropolitan governor, No.60176

Registered money lender

Tokyo metropolitan governor(13)No.00553
Message from Okasan Kogyo Co., Ltd.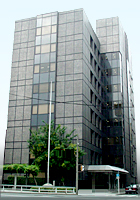 Since 1954, we administered and leased real estate and managed the Group employee benefit programs as the business supply division of the Okasan Securities Group. In recent years, we have expanded into the real estate brokerage, non-life and life insurance agency, among others.
We will continue to take on the challenges posed by new business opportunities, and we are determined to provide steady, finely tuned services in the spirit of doing what we can For Our Clients.