Primary contents from here.
Company Profile
| | |
| --- | --- |
| Company Name | Okasan International(Asia) Limited |
| Address | Rooms 2605-7, 26/F, Wing On Centre, 111 Connaught Road Central, Hong Kong |
| Phone Number | +852-2525-3045(main) |
| Date of Establishment | December 24, 1976 |
| President | KURIHARA Takuya |
| Business Details | Securities Business |
| Capital | 80 million Hong Kong Dollars |
| URL | https://www.okasan.jp/oia/ |
Message from the Okasan International(Asia) Limited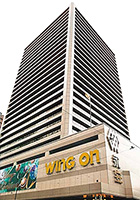 We are the securities firm founded in Hong Kong as an overseas subsidiary of Okasan Securities Co., Ltd., in December 1976. From our offices in Central, the heart of the financial district of Hong Kong, we facilitate the trading of Japanese shares and bonds primarily by institutional and wealthy individual investors based in Hong Kong and elsewhere in Asia. Okasan International obtained full membership on the Hong Kong Stock Exchange in 1984.
We are focused on the trading of shares in Hong Kong and mainland Chinese companies that are of exceptional interest to Japanese clients. The Chinese market is expected to continue to demonstrate high economic growth potential, meanwhile, we will, as a strategic base for the Group in the Asian region, remain actively dedicated to meeting the needs of domestic investors seeking opportunities for investments in Hong Kong and mainland Chinese shares and the needs of Hong Kong investors respecting investments in Japanese shares.