Primary contents from here.
Company Profile
| | |
| --- | --- |
| Company Name | Securities Japan, Inc. |
| Address | 1-2-18 Nihonbashi Kayabacho, Chuo-ku, Tokyo 103-0025 JAPAN |
| Phone Number | +81-3-3668-2210(main) |
| Date of Establishment | April 26, 1944 |
| President | WATAKAWA Masaaki |
| Business Details | Securities Business |
| Capital | 3,000,000,000 Yen |
| URL | https://www.secjp.co.jp/ |
Message from Securities Japan, Inc.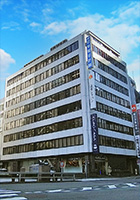 Founded in 1944 as Maruwa Securities Co., Ltd., Securities Japan, Inc. marked its 75th anniversary in 2019 following a merger with Netwing Securities Co., Ltd. in 2008.
This unique, mid-sized securities company with four business divisions—Face-to-face sales, Internet trading, Brokerage services for the same industry, and Independent Financial Advisory (IFA) services—has worked since our founding to achieve sustainable growth and expansion under the corporate slogan "Towards a prosperous future side by side with you."
We are also working to improve our capabilities in face-to-face financial asset consulting, our capacity to handle digital data, and our capacity to provide problem-solving services that support customers through the course of their lives. We also seek to promote alliances with business partners and IFA firms and strengthen the business platform of Securities Japan, Inc. as a community-based service with a nationwide network.
We are actively engaged in helping customers realize their dreams and future goals, and is committed to creating a prosperous future for Japan through asset formation for our customers.