Primary contents from here.
Business-academia collaborations are an important strategic element for companies. Our group collaborates with several universities and research institutions in Japan and overseas and continues to pursue such partnerships.
Offering internship programs to college students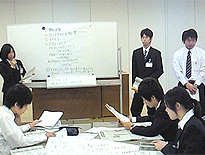 Okasan Securities Co., Ltd. offers internship programs to college students to help them develop an understanding of the social role and the broad range of operations of a securities company.
In August and September 2014, we provided a number of internship programs, with a total of 62 interns participating from universities including Komazawa University, Wayo Women's University, Meiji University, Yasuda Women's University, Rikkyo University, Hokuriku University. The programs provided the interns with approximately one week's work experience at the securities company.
Okasan Securities Signs Training Agreement with SWUFE of China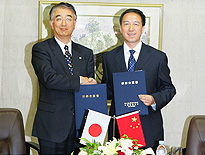 Okasan Securities has agreed to accept trainees from the Southwestern University of Finance and Economics of China (Chengdu, Sichuan Province).
Okasan began exchange with the university in 2005, and this has continued in the development of human resources for the financial sector. In June 2006, the Okasan Securities Finance Laboratory, a computer center, was established at the China Finance Research Center.
Following the training agreement, Okasan intends to deepen its ties with the university by accepting trainees and contribute more to the development of the Chinese capital market, which is experiencing remarkable growth.
Concluding a comprehensive Industry-academia collaborative agreement with Mie University
On June 5, 2006, we concluded a comprehensive business-academia collaborative agreement with Mie University (National University Corporation; President: Nagayasu Toyoda(at that time)). The signing ceremony was held in Sansui Hall at Mie University in the presence of Akihiko Noro, Governor of Mie Prefecture(at that time). This collaborative agreement contribute to the ongoing growth of local communities in Mie Prefecture and represents the first full-scale partnership in the prefecture among industry, academia, and the government, thanks in part to the support provided by the prefectural administration. We will establish a collaborative council pursuant to this collaborative agreement and launch special collaborative initiatives as needed in order to contribute to the growth of local communities in Mie Prefecture. Examples of such initiatives include research programs for the creation of new industries and regional revitalization, academic programs for regional development, personnel exchanges, and the establishment of an endowed lecture series.
Overview of industry-academia collaboration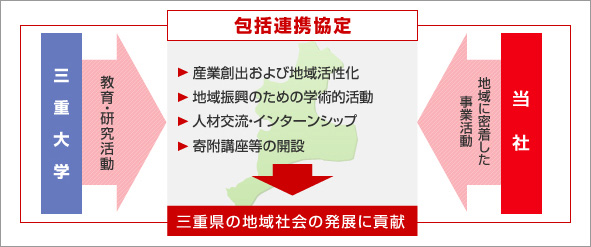 Corporate Social Responsibility