Primary contents from here.
Business-academia collaborations are an important strategic element for companies. Our group collaborates with several universities and research institutions in Japan and overseas and continues to pursue such partnerships.
Japan Investment Trust Management establishes an endowed lecture series at Hitotsubashi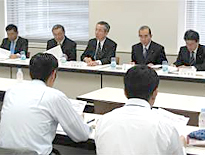 As part of its corporate social responsibilities, Japan Investment Trust Management Co., Ltd., established the Japan Investment Trust Management Enterprise Value Endowed Lecture Series, a research course offered by the Graduate School of International Corporate Strategy at Hitotsubashi University. Based on the themes of corporate valuation and mergers and acquisitions, this lecture series was placed under the primary charge of Professor Nobumichi Hattori of Hitotsubashi University and is slated to be held over a three-year period from October 2006 to the end of September 2009. Japan Investment Trust Management has been engaged in various CSR activities designed to enhance social welfare. For example, the company established regional support funds as a source of funds through the donation of a portion of management fees. By taking advantage of this endowed lecture series, the company intends to promote its corporate social responsibilities and harness the exchange of a broad range of academic information, the outcomes of joint projects with this research course, and other fruits yielded through joint research in order to fortify investment performance and reinforce our ability to develop new instruments.
Japan Investment Trust Management Co., Ltd. changed its name to Okasan Asset Management, in April 1, 2008.
Okasan Information Systems establishes an amalgamated company in China
(Shanghai Okasan-Huada Computer System Co., Ltd.)
Okasan Information Systems Co., Ltd., is a company that develops software on behalf of our Group. In 1991, we used the outsourcing of software development to East China Normal University in the People' s Republic of China (located in Shanghai, China) as a springboard to an exchange program for trainees from Chinese universities and other such institutions. Moreover, a developmental tie-up for computer systems was concluded in 1995 with the computer center at East China Normal University. For over a decade, OIS has been engaged in system development operations based on collaborative efforts between business and academia. In July 2005, an amalgamated company was jointly established with East China Normal University for computer software development and maintenance as well as to provide system solution services.